You can't go to Iceland without seeing the Blue Lagoon. Partially because it's one of the country's biggest must-dos, and partially because it's so close to the airport that it's just silly how easy it is to squeeze in before or after your flight.
I spent the morning at the Blue Lagoon before flying home from Reykjavik. I booked transportation through Reykjavik Excursions (the company could work on its customer service but it's the easiest when it comes to booking online/planning ahead). I left Kex Hostel in downtown Reykjavik at 9:30 am, took a transfer van to the main bus terminal. From there I boarded a coach and set off on the drive to the Blue Lagoon - about 50 minutes from the city. The bus promised free WiFi, but it didn't work.
Upon arrival at the Lagoon (you don't see much except black volcanic rocks at first) there's a place to drop off luggage. Costs about 500 ISK per bag. There are lockers inside, so check your bags here, but keep a smaller bag with you.
After checking your bags, continue into the Lagoon complex -- you'll get a glimpse of the electric blue water but not the lagoon itself.
This is important: buy tickets in advance!! You'll skip the big line. It's easy online and there are a lot of different combos. I bought the standard package (35euro) a few weeks in advance, then added on a robe (10 euro) when I checked in -- so don't worry if you want to upgrade once there. I also booked an in-lagoon massage and transportation in advance, all via the Blue Lagoon website.

When you check in you'll get a digital wristband, then you go inside and get a locker. The wristband is used to lock your stuff in said locker. I recommend bringing your own flip flops, hair brush, and a small plastic bag to carry a camera out to the lagoon with you. (There were no pockets in the robe and I needed to get my Instagramming in, so I got creative and tied my iPhone in my robe sleeve using the robe's sash to hide it there while I was actually in the water. A bag would've been much easier!)
After you find a locker, you continue to the locker room's showers. You're supposed to shower without your swim suit on, though a few people kept theirs on. Ladies -- it's recommended that you load up your hair with conditioner before getting in the lagoon, as there are a whole lot of minerals in there that don't play nice with hair. I did that, but it still took 4 days of deep conditioning after my swim to smooth the kinky curls out of my normally straight hair, so I say go skip the cond and go with a shower cap to just save your hair the trouble.
Head out to lagoon area -- the ground can be chilly and slippery, which is why flip flops are ideal. Hang your robe on the racks of hooks (it reminded me of a ski chalet where everyone parks their skis), then... get in! It's very warm. To the right there's a bar (don't worry about money, you just use your wristband to charge stuff and pay when you check out). There are a few small bridges you can swim under. Along the sides to the left/back are silica mud pots -- slather it on the give yourself a facial. It's free. (Some packages also offer an algae mask, but most people just were using the free stuff.)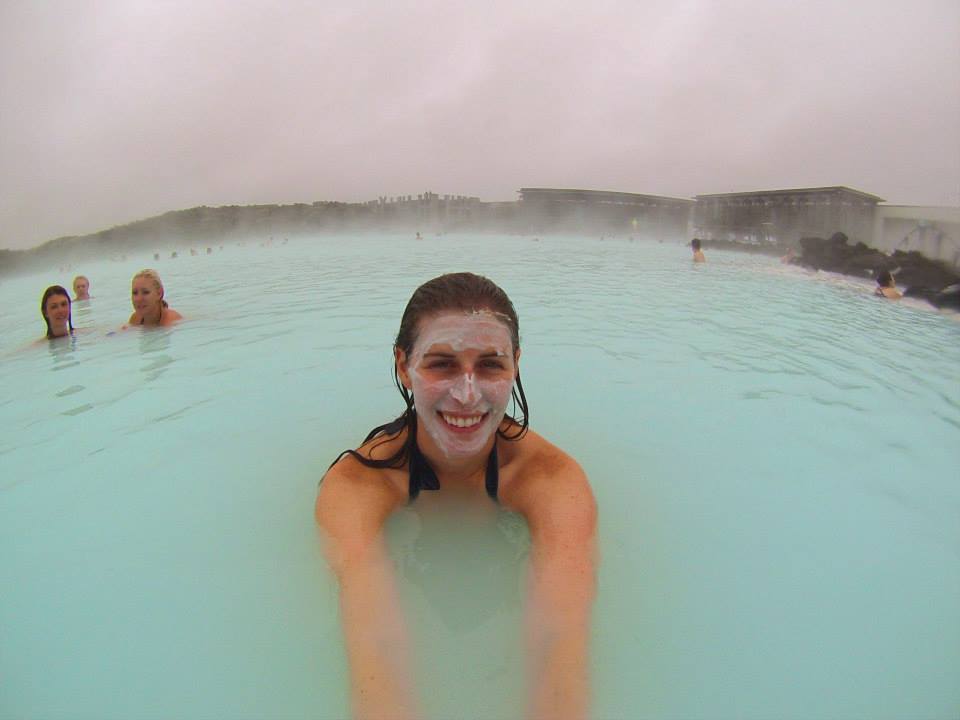 To the left there are steam rooms, a warm waterfall you can stand under, some nooks, and a water massage area.
Near the bar a Lagoon employee makes the rounds taking pictures (for free). He emails them to you so you don't have to bring your camera in the water. (I brought in my waterproof GoPro but was surprised how many stupid people had their pricey DSLRs in there with no protection.)
I swam around and got a beer at the bar, then put the gray-blue mud on my face. After about a half hour in the water, I moved over to the spa section and got a massage. It was simultaneously wonderful and weird. You float on a soft foam pool raft and are covered with a blanket. The masseuse occasionally dips you under water to keep you warm. It feels like you're getting a massage in a giant warm bath, but since there's no resistance from the water and the raft makes back access difficult, it can feel awkward when the masseuse reaches back there.
The steam rooms near the massage pool are small but weren't very crowded. There's also an upstairs relaxation room, which is quiet -- actually for a major tourist site/bar/place with kids the whole lagoon was surprisingly quiet.
At 1 pm I went back inside, showered, dumped the robe, and put on my clothes. Checked out and paid balance (I had paid about $192 up front for the bus, entry, and massage, so the remaining $20 or so covered the beer and robe). There can be a line to get out of the locker area, but I lucked out and had extra time, so checked my email using the hotspot in the cafe. You can also walk up to second level where there's an outdoor photo viewpoint.
On the way out, I walked through the very pricey gift shop and went to pick up my luggage. Got to the luggage check about half hour before the bus was supposed to leave so had some time to check email and charge my phone in the one wall outlet while I waited.
My flight was leaving Reykjavik at 4:50 pm so I took a 2:30 pm bus from the Blue Lagoon to KEF. The ride took about 20 minutes.