In August I traveled to Chicago for 2 days. While much of it was spent in meetings, I was able to eat, drink, and see some of Chicago's finest. Here's what I did:
How I Got There
I snagged a great Wanna Get Away fare on Southwest Airlines. Flew DCA to Midway for $98 round-trip … and only booked it two weeks in advance. (Guess that's what a Tuesday — Friday schedule gets you!)
Where I Stayed
JW Marriott Chicago: The hotel is about a 10-minute walk from Millennium Park, and is blocks from the Willis Tower. It's a nice upscale city hotel. There's a large lobby with a bar and lounge area (though it didn't stay open all that late). It's in the Loop, so surrounded by businessy spots like Starbucks and take-out lunch restaurants. Rooms were cool, clean, and have those wonderful Marriott beds.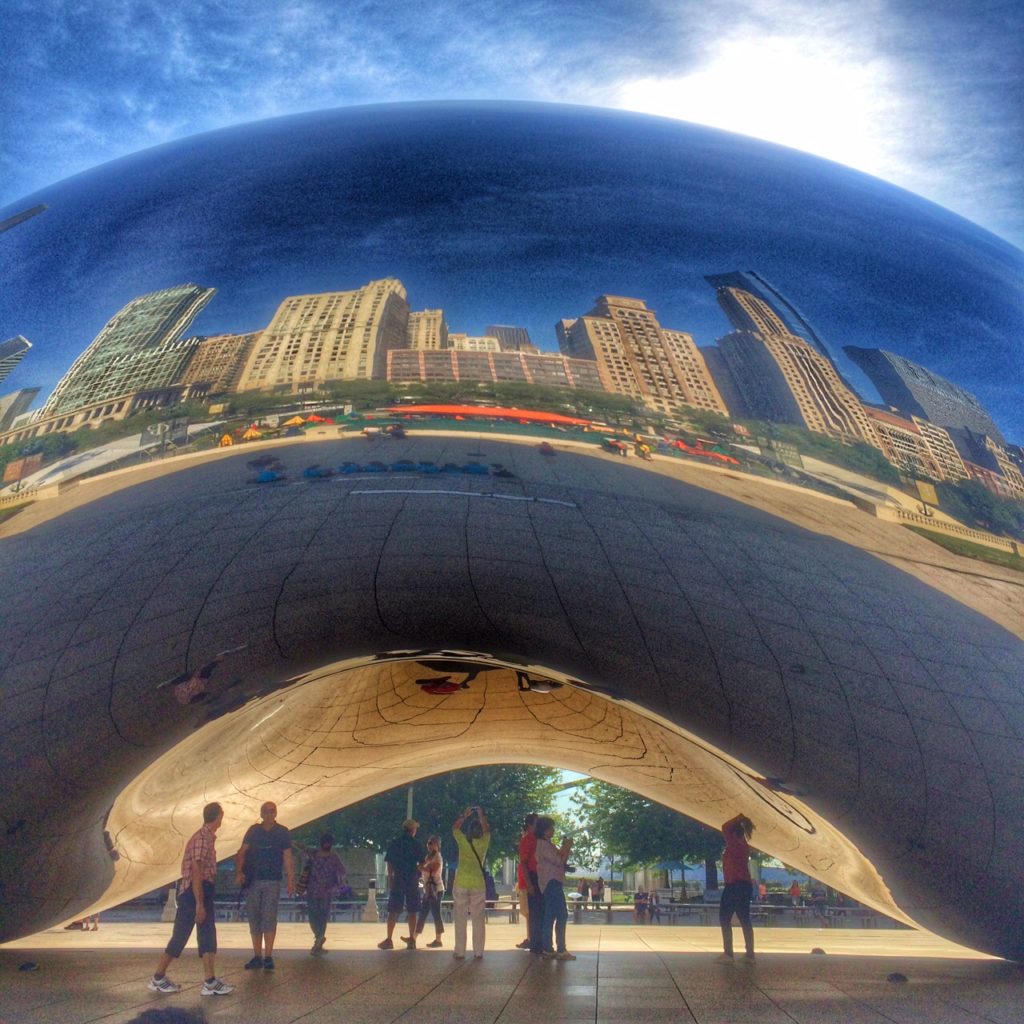 Day 1
The Bean: My favorite place to photograph in Chicago. I snuck a visit in before work and snapped some pics of the buildings and blue sky reflections.
Tortas Frontera: From chef Rick Bayless, this Mexican quick-lunch spot serves hand-crafted sandwiches and a salad with lime-avocado dressing that I never would have ordered had it not been recommended by a colleague. Now I can't wait to get back and order another one of those salads…
City Winery Chicago Riverwalk: This whole Riverwalk district is brand new, with bars, restaurants, and more kayak rental shops than I've ever seen in a city. The winery was bursting with post-work happy hour-ers, and since you can't take your drinks beyond a certain point, I just sat on the steps and watched the boats chug along the river a few feet away.
Parlor Pizza Bar: Pizza in Chicago means one thing: deep dish. Except not at this West Loop hotspot, where Neapolitan pies are as creatively topped as they are named (check out the Cheesus, Mary & Joseph).
RM Champagne: This West Loop champagne bar has a great outdoor patio. Twinkle lights, exposed brick, and 12 types of bubbly all help you forget the fact that you're kind of drinking in an alley. (There's also a large indoor space.)
Three Dots and a Dash: My colleagues and I closed out the night at this underground tiki-style bar. It's known for its cocktails, but I'm even more of a fan of the ceramic tropical mugs that the drinks come in.

Day 2
Wrigley Rooftops: 3643 n. Sheffield: After a day of meetings we took a trolley from the Loop out to Wrigleyville for a Cubs game at the Wrigley Rooftops. New updates to Wrigley Field (a big jumbotron and more public space) has spoiled the view from some of the rooftop venues, but we could see everything but the deep outfield. The rooftops aren't so much about the baseball, but more about the all-you-can-eat-and-drink deals. The menu included dogs, brats, and some ballpark sides, plus a good selection of wine and beer.
Cindy's Rooftop: The rooftop bar and restaurant at the Chicago Athletic Association has a prime view overlooking the Bean, Millennium Park, and Lake Michigan. The place has an industrial-chic style and a cocktail menu called the "Potions & Elixirs" list.
Hangge Uppe: A go-to late night dance party bar, apparently any night of the week. Come here if you want to keep the party going until 4 a.m. Think college dive, not techo club.