I traveled to Dubrovnik for 5 days in July 2017. We used it as a base to explore the UNESCO World Heritage Site walled city, track down Game of Thrones filming locations (it's Kings Landing!), and take a handful of day trips, including to Montenegro and the island of Mljet.
How to Get to Dubrovnik
The main purpose of my trip was a wedding in Greece after the Dubrovnik leg. Turns out travel between Greece and Croatia is a lot tougher than I expected. There aren't direct air connections daily, and if you're hoping to travel by boat, be forewarned it takes like 26 hours via ferry and goes through Italy.
Without my specific itinerary complication though, getting to Dubrovnik is pretty easy. There are plenty of connecting flights from other cities in Europe. There are ferries from other Croatian islands, like Split and Hvar. The airport is about 30 minutes from the city — a pretty drive along the coast. You can take the bus or a taxi cost 35-45 euros.
Where to Stay in Dubrovnik
I stayed in the heart of the Old City, in a wonderful studio apartment Airbnb. (GoT fans, it was right at the base of Ceresi's Shame Stairs.) There are a ton of great Airbnbs in the Old City — just be prepared to walk up a lot of stairs (inside and on the side streets leading up to the houses). Most of the hotels themselves are outside the city.
So, should you stay in Dubrovnik's Old City or outside the walls? It kinda depends. Staying in the Old City is super convenient — you can walk home from the bars and restaurants at night, and you can pop home during the day for a bathroom or to cool down in a/c. But … it is CROWDED in there. Like middle-of-Times Square crowded. This made it pretty overwhelming any time we stepped out the door.
If you aren't into crowds, consider staying outside the city. I heard great things about the Hotel Excelsior, which is a short walk from the city walls. If you have money to spend and want to relax, the Valamar Dubrovnik President Hotel had incredible views and looked amazing. Oh, and there's also a hotel with a cave bar.
What to Do in Dubrovnik
Arrival Night
After about 24 hours of travel, we arrived to the city around 9 pm. Entering the Old City through the Pile Gate (pronounced Pila) is probably the coolest entrance to a city I've ever made. You cross a drawbridge and it feels like you're entering a castle. We made it out for dinner and a few drinks, then crashed at our Airbnb.
Gradska Kavana Arsenal: A great place for dinner on one of the Old City's main squares. We sat outside and sipped Croatian wine from Istria. I didn't know it at the time, but it's run by one of the city's most prominent restaurant groups (that also runs Dubravka, Panorama, etc.).
Gusto Giusto: Dubrovnik is full of these little hole-in-the-wall restaurant/bars on side streets. This one had a few small tables outside, and some people were just sitting on the steps. Small but interesting selection of local beers and wine, plus some cocktails that I didn't try.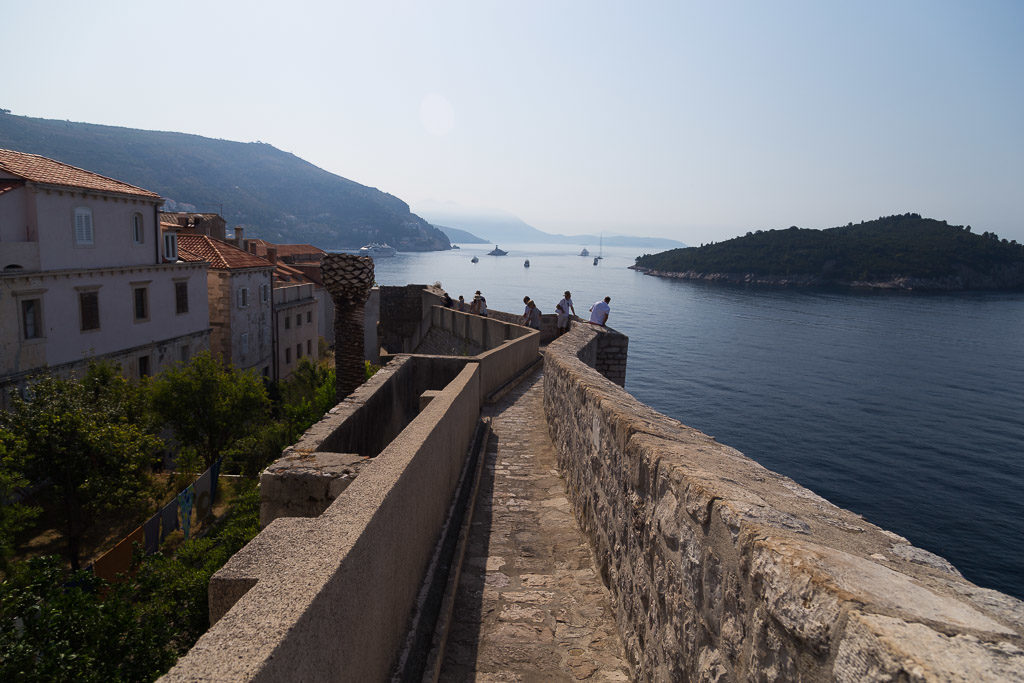 Day 1
We covered a lot of touristing ground today, and it was all fantastic. Knocked off three of the top things to do in Dubrovnik (walls, kayaking, Mt. Srd).
City Walls: You can climb up onto the top of Dubrovnik's walls and do a full loop around the city. It's fantastic — the views are amazing and there are little cafes and bars to get refreshments along the way.
The secret to doing the walls is to do it early —get up there at 8 am and be done by 10 — or late, around sunset time. Since this is probably the #1 thing to do in Dubrovnik, the walls get very crowded during the day. Plus there's not a ton of shade so you'll roast if you go midday. Ticket costs 150 kuna (at this writing Dubrovnik isn't on the Euro), and there's no reentry.
Trattoria Tezoro: Went here for breakfast. To be honest, all breakfasts were pretty much the same: you choose from American, French, Italian, etc. and then get some combo of OJ, coffee, sliced meat and cheese. To do the full loop takes about 1.5-2 hours.
Sea Kayaking with Dubrovnik Walks: On a hot summer day sea kayaking tours are the best way to stay cool. This operator runs 7-km trips from right outside the city walls. You paddle around Lokrum Island and then stop at a beach in a cave. You can book in advance, though we reserved online about an hour before the trip.
Mt. Srd cable car: For some of the best views of Dubrovnik, take the cable car to the top of Mt. Srd (or hike, if you're up for a climb). There's a museum and a restaurant at the top. Tip: Buy your tickets online beforehand (cost is about $22), then skip the line when you get to the cable car.
Panorama: The restaurant at the top of Mt. Srd is the best meal with a view you'll have in Dubrovnik. If you want to sit right on the edge for a sunset dinner you'll have to make reservations a year or more in advance. But you can just walk in and get a non-edge seat (and if you stay past sunset you might be able to move seats closer).
Day 2
Dubravka: This restaurant right outside Pile gate is popular among locals and tourists. It has a great breezy patio overlooking the city walls. Good for any meal, and a little cheaper than the restaurants inside the walls.
City tour: We joined a local tour guide from the Dubrovnik visitors' bureau. Learned some interesting things:
The Franciscan pharmacy is one of the oldest in Europe — you can buy rose water here

Earthquakes are responsible for the varied architectural styles, while the war in the 1990s destroyed the city's roofs, which is why they all look new

Friday is the city's busiest day

Some restaurants to check out:

Azur (Mediterranean food with an Asian twist)

Prieko (street full of restaurants)

Mishta (vegetarian food)

Posaj (outside the city, local food)

Dolce Vita (ice cream)
Restaurant Orsan: To escape the Old City crowds we headed over to Lapad, an easy cab ride away. Lunch at this harborside restaurant was relaxing, delicious and a bit cheaper than the tourist center prices.
Lapad coastal trail: From nearby Restaurant Orsan, a quiet walking path meanders along the coast, past little piers and beaches. As it rounds the Lapad peninsula there are larger techno-bumping beach clubs and some resorts.
Buza Bar: My favorite thing in Dubrovnik. Buza literally means "hole in the wall," and these bars (there are two) sit on the rocks just outside the city walls. The first Buza is a bit more commercial — there are seats and a full bar setup. The second is more makeshift, but it is better for swimming. You can also BYOB to both of these spots.
Lajk: This family run restaurant had outside tables on the Prieko street. Good food, local wines.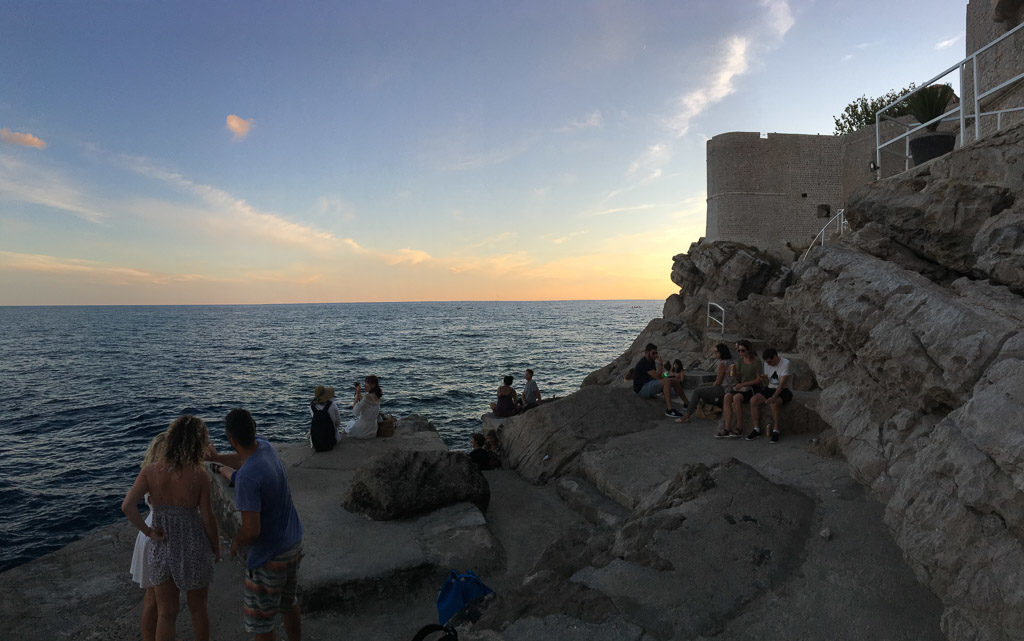 Day 3
Day trip to Montenegro: We hired a driver to take us across the border to Montenegro for a daytrip.
More info about that on this blog post!
Dubravka: Not just a breakfast spot — great for a big group dinner.
Troubadour Jazz Cafe: Small bar with live music at night. Performers play outside so you can sit at the neighboring bars on the square if seats fill up.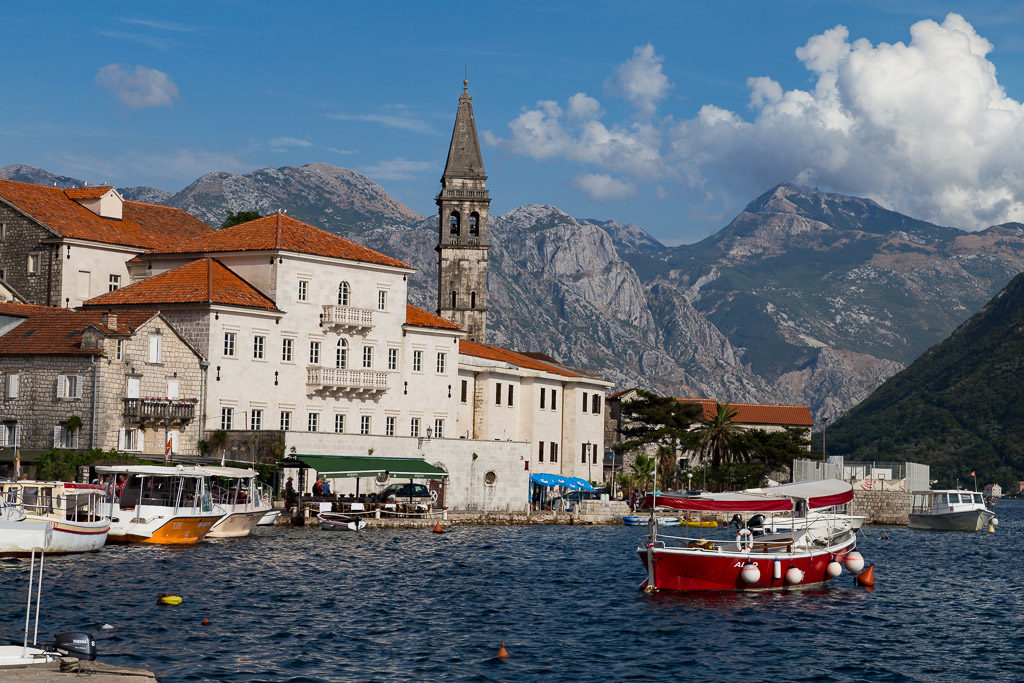 Day 4
Day trip to Mljet: We hopped a ferry to this large island with a national park about 1.5 hours away from Dubrovnik. Left at around 9 am and returned by around 6:30.
More info about that day trip on this blog post!
Restaurant Kopun: Tucked in a quiet square in front of the Jesuit Church, this restaurant specializes in castrated chicken (kopun). But there are plenty of other options on the menu too, and in tough-to-get-a-table Dubrovnik, it was a great option for walk-in outdoor dining for a group.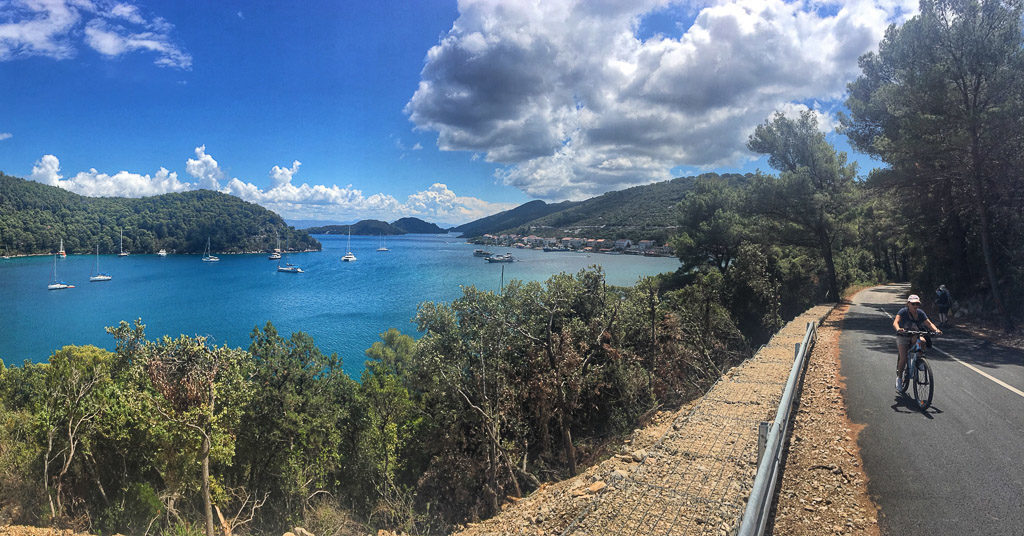 Day 5
Our flight was leaving at around 4:30, so we only had a partial day. We weren't sure about going to Lokrum — might be too much of a production — but it was such a peaceful escape from Dubrovnik and super easy to get to.
Lokrum: The small island off Dubrovnik is a super easy, relaxing break from the hot crowded city streets. It's about a 10 minute ferry ride over there. Once on the island, there are beaches, chaise lounges, walking trails through forests with peacocks roaming, and a few restaurants. GoT fans, there's also an Iron Throne you can pose on, and an exhibit of various Dubrovnik filming locations.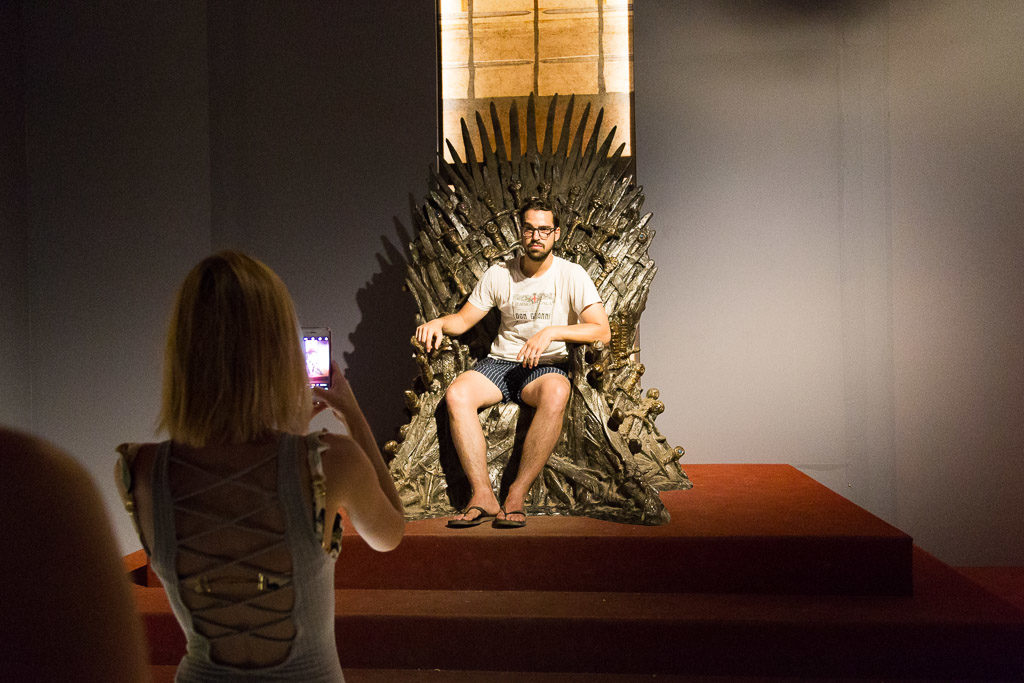 Random Stuff You Should Know about Dubrovnik
Game of Thrones stuff is EVERYWHERE. There are tours all over, kitschy souvenirs and T-shirts for sale all over, and two Iron Thrones (one in the Old City that you can sit on after purchasing something in the shop, and a free one on Lokrum)

Restaurants inside the city walls are pricey. As soon as you step outside (like, even right outside at Dubravka) the prices drop.

Just reiterating the crowds. Overtourism is definitely a problem here.

Tourism is the main industry here, so most people speak English.

February 3rd is the city's #1 celebration: St. Blaise festival

Some local products to buy: rose water, coral jewelry, embroidered goods.

It's hard to get into many of Dubrovnik's popular restaurants at dinner. If there's a spot you want to try, make reservations.